Historic

Our annual celebration of Historic Jackson Heights takes place every June
Join the Jackson Heights Beautification Group, sponsor of the weekend's festivities, in celebrating Jackson Heights –  the first planned garden and cooperative community in the United States, and a city, state, and federal historic district.
Contact us if you want to volunteer, take part of the different activities or if you want to include your garden or special site in our tours.
Jackson Heights Orchestra
Jackson Heights to get orchestra! A retired music educator is hoping to hit the right note with a community orchestra in Queens. Long-time Jackson Heights resident and violinist Patricia Glunt, 58, is launching the Jackson Heights Orchestra, comprised of more than two-dozen local musicians.
Under the sponsorship of the Jackson Heights Beautification Group the Jackson Heights Orchestra is now being formed!
Contact: Pat Glunt at jack.hgt.orch@gmail.com for more information.

Press coverage:
Retired music educator launches Jackson Heights Orchestra, by Daily News
Jackson Heights Community Orchestra Tuning Up for First Performance, by DNAinfo
Amateur Orchestra Prepares for First Show, by NY1
Summer Sundays at the Park

Since 2004, JHBG has been bringing stellar artists to Travers Park every Sunday in the summer time. There's something for everyone, from classic rock to South Asian drums along with dance and jazz.
Queens—and Jackson Heights in particular—is known and lauded for its diversity, so why not celebrate that diversity through music?
If you are a local artist or performer who are interested to be part of our summer series or other upcoming opportunities in the neighborhood contact us at info@JHBG.org.
Halloween Parade
The JHBG Halloween Parade Committee organizes the traditional annual parade in Jackson Heights. All are welcome!
The parade starts at 5 pm on October 31. Line up at 4:30 at 89th Street and 37th Avenue. March, skip, dance, stroll to PS 69, where the goodie bags are handed out.  At the end of the parade, more than 3,000 bags of treats are handed out to children.  The success of the parade is thanks to the volunteers who put the parade (and the bags of treats) together, and to the many local businesses that contribute financially and with in-kind donations.
Each year we need volunteers to help stuff the goodie bags (usually the day before Halloween) and to give them out at the parade. Volunteers need to sign up in advance. All volunteers who help with stuffing the goodie bags are treated with refreshments, and all of them are invited to a thank-you party the night of the parade.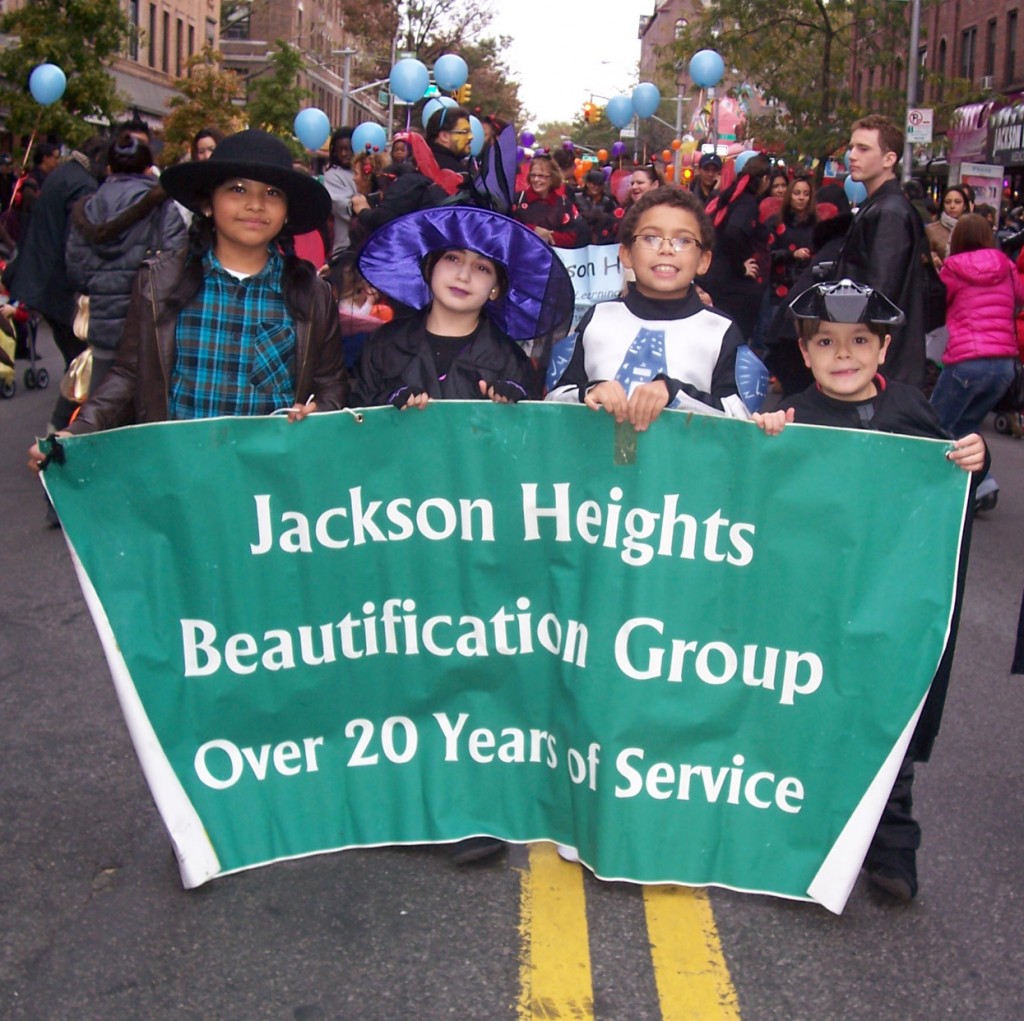 If you're interested in volunteering contact us at info@JHBG.org.